DENTAL ASSISTANT SHOES YOU'LL BE SMILING ABOUT

Meet the best dental assistant shoes on the market
So long tennis shoes, hello active recovery
The perfect juxtaposition of comfort and functionality is ready for your day at work. For dentists, hygienists and dental assistants alike, our active recovery shoe will help counter those many hours of standing, as well as the frequent transition between standing and sitting. After all, working on your feet for long hours requires boosted flexibility, proper support and major cushioning. Our shoes also give you all the breathability you've been looking for and the comfort you need for a lengthy day on your feet.
Step into our Kane Revive Active Recovery Shoe and you'll never look back. Available in multiple colors and patterns, consider these your go-to shoes for everyday wear—both in and out of the workplace. Finally, you can walk away from foot fatigue for good. Kane Revive's generous cushioning, heel raise and arch support work simultaneously to deliver the best experience yet.
Our Kane Revive takes the pressure off isolated parts of the foot, providing you with a supportive grounding for your base. Achieving durability and breathability in a work shoe is an essential combo when you spend many hours standing.  
Your work shoe should function as well as your choice walking shoe—securing heel, arch and instep. A well-cushioned and supportive athletic shoe will be your confidant in the workplace.  Fortunately, tennis and running shoes are no longer your only option. 
While the breathable mesh lining of a runner delivers moderate air circulation, you'll find that all airflow challenges are solved completely in our Kane Revive. A breathable mesh upper layer has got nothing on our perforations! Our active recovery shoe has many air holes to deliver the utmost, lasting freshness. Plus, runners and tennis shoes simply aren't as easy to wash or dry when it comes to managing workplace spills. 
Once you experience the convenience factor of our supportive shoe, it'll be impossible to switch back. Kane Revive will be the only shoes you'll want to grab for the work day ahead. Are you ready for the best part? Our shoe is sustainably designed and engineered with durable EVA foam derived from Brazilian sugarcane.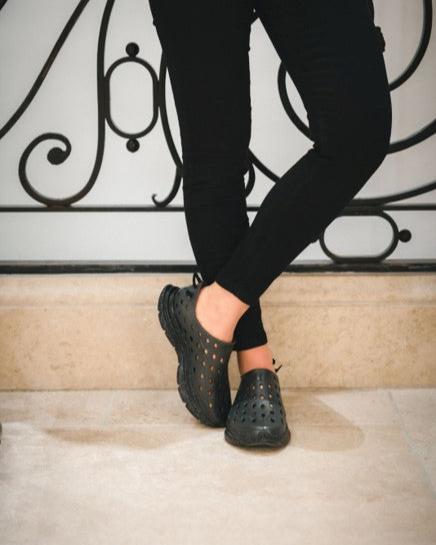 A roomy toe box means full comfort in assistance
Our specialty RestoreFoam creates our shoe's flexible, soft padded collar and unmatched footbed comfort, adding total balance to your day. Dental shoes should come down to sturdiness and superior traction, allowing you to move easily from room to room, and patient to patient. 
Most dental assistants have a busy day on their feet from start to finish, so having comfortable shoes in your corner will be a life saver. A reliable slip-resistant outsole will back you up in a bind and keep you leveled no matter the circumstance. Plus, its easily washable and wipeable qualities are key should there be a wet floor underfoot. Spills can easily happen in a dental office—water, mouth wash, you name it. Our outsole is easy to clean, and provides top tier traction in the face of any wet surface.
 "Excellent footbed support; my foot pain is resolved when walking. Stylist look as well; I wear them for work with my scrubs and I will never wear crocs again."
"Feels amazing on my feet after working 60 hours a week!"
"They are amazing and super easy to clean after a long day seeing patients"