ARRIVE TO WORK WITH THE BEST
WAITRESS SHOES IN THE BIZ
Our non-slip shoes feature comfort like no other
Arch support and a roomy toe box for long shifts
Stepping into work should be a fulfilling part of your day—never a drag. And when you're working a job that requires long periods of standing and walking, there's no time for foot pain to bring you down. Since the restaurant business is fast-paced, you're under pressure to keep up. Fortunately, we've got the perfect solution for waitresses: meet our Kane Revive active recovery shoe.
Comfortable shoes are a must when working hours are lengthy and you're constantly on your feet. The best shoes for the job need that perfect combination of arch support, breathable materials and a better-than-memory-foam EVA blend. Our RestoreFoam non-slip shoes take comfort, flexibility and sturdiness to all new heights.
Ready to enhance your serving experience for the long run? It's time to ditch that old, hard sole from the past and replace it with a better option. Once you've upgraded to the boosted flexibility and robust design of our shoe, you'll be wondering how you got this far without them. The Kane Revive provides flexibility with solid traction, so you don't have to fret over water spills or any other liquids.  
When serving customers all day long, there's no reason you can't look cute while still feeling comfortable and supported. At Kane, we feel there's room for both, and it's evident in our footwear. Our active recovery shoe comes in many colors and designs, from pink, charcoal black and white to olive green. We're confident you'll find a look that matches your style and personality perfectly.
Working hard on your feet for long hours requires serious support and proper cushioning. And we believe you deserve that great value-add to each and every workday. Specialty treatment should never be overlooked when it comes to your feet, so consider our Kane Revive your go-to shoe for work, commuting or anytime. Face the day in style and function.
Serving can be stressful, so we don't want foot strain or heel pain get in your way. Kane Revive's generous cushioning, heel raise and arch support work together to provide the best possible experience. Plus, our fast drying, washable shoe has many perforations for the utmost airflow all day long. And when standing and walking take over your day, our raised footbed nodes also add that extra ease and comfort.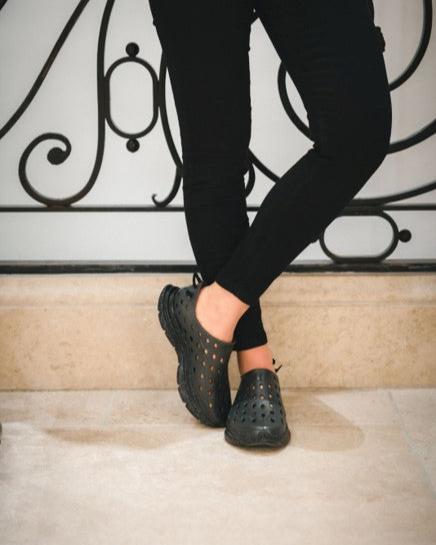 Proper footwear for kitchen runs
Water resistant shoes that are comfortable and supportive will feel like a dream for your tired feet. Our design allows for enough room in the foot surround, while simultaneously delivering total foot control and stability. While flats and booties are appealing for certain occasions, they simply won't protect your feet from strain and spills during your serving shift. You need a reliable shoe that's built to last.  
And if you're caught in a sticky situation? That's no matter. Even when treading through a fallen dessert or soda spill, a simple rinse and dry is a total snap. The nearest staff washroom will do the trick - just head to the sink tap, rinse on high pressure, wipe and go! No fuss, no muss.
Lots of traction for all that action is the name of the game in our Kane Revive. But real breathability is just as essential. Despite the season, you may find your feet getting warm in the hustle and bustle of your restaurant. And with all the moving back and forth between the kitchen and the main floor, you need air circulation and comfort on your side.  
"I use mine for work, they are very comfortable!"
 "Comfortable after 12 hours shift!"