DISCOVER THE BEST MAID WORK SHOES ON THE MARKET

Get swept off your feet in the best shoes for cleaning
Time to match with your better-than-average rubber sole-mate
As you gear up for a day of washing, lifting, folding and scrubbing, you're going to want to grab that trusty pair of shoes. But not just any shoe will do, of course. Your maid work shoes must have comfortable padding, arch support, provide flexibility, traction and have a better-than-memory-foam EVA midsole. A tall order for one shoe, some may say. But when it comes to our Kane Revive, these features are an absolute given. 
Let's not tip-toe around it any further—our recovery shoe fits the bill exactly. Get ready for the best shoes in town for hospitality workers. Picture the airy freshness our shoe has to offer, coupled with all the cushioning and sturdiness you need for the day ahead.  
Available in multiple colors and patterns, you can seamlessly transition these from work to everyday leisure-wear and back again. Whether it's morning, noon or night, foot fatigue is no longer your concern. Kane Revive has your bases covered. Literally.
Break it off with your old shoes and chuck that basic footwear—it simply doesn't live up to the expectation. For maids, housekeepers and cleaners alike, a durable shoe with full foot control and cushioning is essential for a successful day. No need to compromise on anything when our shoe has it all. Once you test the waters of our EVA RestoreFoam, there'll be no going back to the old ways.  
You can feel confident and safe on any and all floor surfaces with our shoe's handy grips. The large channels and siped soles underneath give you all the flexibility and traction needed to conquer the day. With Kane Revive's anti-slip, liquid-repellent outsole, encountering slippery floors won't feel like a challenge anymore. 
If your mop bucket or cleaning solution takes a sudden tumble, it's no matter at all—getting your shoes and feet dry is always a piece of cake. Simply rinse, hang and wipe your shoes between shifts or on your break, and you'll be back in action in no time. Kane Revive is easily wipeable and quick-drying, so simply grab your nearest cloth or paper towel. 
Whether you walk, drive, cycle or take transit to work, our recovery shoe will keep your feet super comfortable and secure. Both on the job and on the move, you can rest assured—trouble is never afoot in these.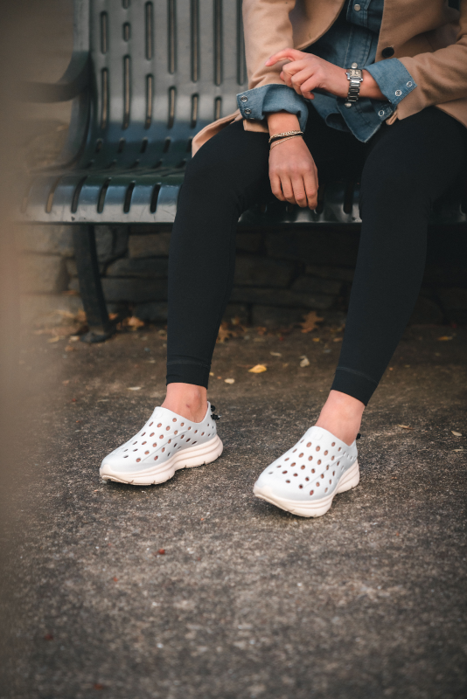 House cleaning just got a whole lot more comfortable
Let's face it. Whether you're working alongside a large housekeeping staff tackling about sixteen rooms, or going it solo up and down many stairs, long hours of housework can take a toll.   
Gone are the days of the Victorian housekeeper, who's cleaning ensemble and footwear were not the most functional. A modern day cleaner needs a modern day shoe, equipped with all the bells and whistles required to get the job done. In fact, the gold standard in supportive footwear is the only way to go. 
Needless to say, your feet need as much support and breathability as possible throughout your shift. Air circulation is boosted both between and during wears by our specially designed perforations, keeping you cool while working. After all, who wants to cope with hot feet on the job all day? 
If you find compression socks help reduce swelling during those lengthy work days, simply pair them with our Kane Revive. You'll still get the benefits of enhanced airflow through the small holes at the top of the shoe. Plus, this sock and shoe combo work together to increase blood flow. You can enjoy all the benefits of Kane Revive, no matter how you wear them.
"Feels amazing on my feet after working 60 hours a week!"
"I use mine for work, they are very comfortable!"