SLIDE INTO THE BEST INDOOR SHOES YEAR ROUND

Wool slippers giving you foot sweats? Try these instead
Need a snug fit? Here's your go-to shoe for indoors
Buzzing around the house calls for a comfortable shoe with proper support. After all, there are a lot of chores to get done! Whether you're doing laundry, working from home, chasing children, or doing a virtual aerobics class, your feet deserve the right indoor shoes. And often, a mere slipper isn't going to do the trick. In fact, it may even hold you back in your daily indoor tasks.
True support comes in the form of our active recovery sneaker. While those cotton or wool slippers may feel like a cozy choice for the short term, they may fall flat in the longer term. Besides, who has time to suffer foot sweats? Many hours of hot feet and aching arches don't feel too worth it. Our lightweight Kane Revive shoe is made from EVA RestoreFoam, providing a robust sturdiness and generous cushioning. Plus, our raised footbed nodes deliver a massage-like effect in each step, so you can feel comfortable and supported all day.
Temperature changes indoors can happen at the drop of a hat, but you can always be prepared for any thermostat shift or window opening in the Kane Revive. Simply pair our active recovery sneaker with a sock of your choice, should you need a bit of extra warmth inside. The Kane Revive can be comfortably worn with many sock varieties, so the choice is all yours. 
Visiting a friend at their home or attending an indoor activity? These shoes are easy to carry around and hang up with their handy hang loops. Since many people like to wear different shoes inside versus out, you may choose to have an indoor and an outdoor pair of Kane Revives in your rotation! Consider the indoor version your leveled up slippers. 
You may even choose to wear our shoes as your footwear of choice for work. You can easily wear the same pair to and from work, or bring a secondary pair along for exclusive inside use. Whether you work virtually from home, or head into an office each day, our Kane Revive will give your foot the stimulation it needs. Our raised footbed nodes activate blood flow in key pressure points, increasing circulation, energy and comfort.
Plantar fasciitis getting you down? Not with active recovery sneakers on your side! Our anatomical last design comfortably secures heel, arch and instep, providing the necessary cushioning from front to back and at the ball of each foot. No matter your activity or task for the day, the Kane Revive can help get you back on track. Forget about strain and pain, it's time to get comfortable from the base up.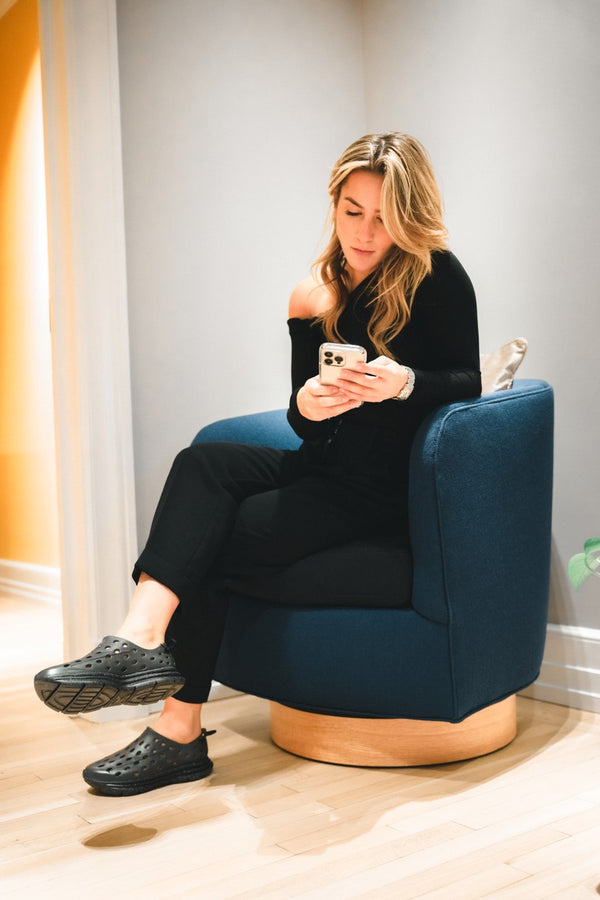 Winter, summer, fall, spring—This indoor shoe has it all
We welcome warmer months, cooler months, and all of the in between months! Our Kane Revive is the perfect indoor shoe no matter what the temperature is inside. With exterior perforations and interior channels, our active recovery shoe provides boosted airflow. Plus, our sustainably sourced EVA RestoreFoam is the lightweight answer to any clunky alternative out there. Reinforcement has never been paired with such a breathable feel.
Slick wooden floors and slippery tiles are no match for our superior grip action. The Kane Revive's oversized channels and siped soles provide tons of flexibility and traction no matter where you are. You can feel secure and confident moving up and down stairs, across hallways, and in and out of rooms.
Slip into the most durable, cushioned indoor shoe yet. Perfect for men and women alike, our shoe is built for smooth transferability and energy return from heel to toes. And the best part? No wear and tear like leather or fabric, just long lasting EVA durability.  
 "I have a pair of Kanes for indoors. They are awesome!"
 "I have replaced my slippers with Kanes! Love to wear them around the house"
 "Kanes are my go to shoes when I get home from a long day at work."