Black/White Speckle

A transformative, sustainably designed injection molded sneaker for active recovery.

Washable. Quick drying. Ultra durable.
Free Shipping on orders over $100
Includes 3 swappable hang loops 

(not to be pulled on)

Made in Brazil from sugarcane-based EVA foam

All orders are shipped from Westfield, IN
Size guide
The Kane Revive shoe size follows standard sizing for a running shoe. The shoe size chart should therefore reflect your normal fit.

IN BETWEEN SIZES?

For a narrow foot, go one size down (ex. if you typically wear size 10.5 - select size 10).

For a wider foot, go one size up (ex. if you typically wear size 10 - select size 11).

Still have questions regarding sizing, please feel free to reach out at support@kanefootwear.com or 203-990-1320.

Shoe width
US mens
US womens
inches
cm
B+ width
3
5
8.5
21.6
4
6
8.8
22.3
5
7
9.1
23.0
6
8
9.3
23.6
7
9
9.6
24.4
D width
8
10
9.9
25.1
9
11
10.3
26.0
10
12
10.6
27.0
11
13
10.9
27.7
12
14
11.3
28.7
13
15
11.6
29.4
14
16
11.9
30.2
15
17
12.3
31.2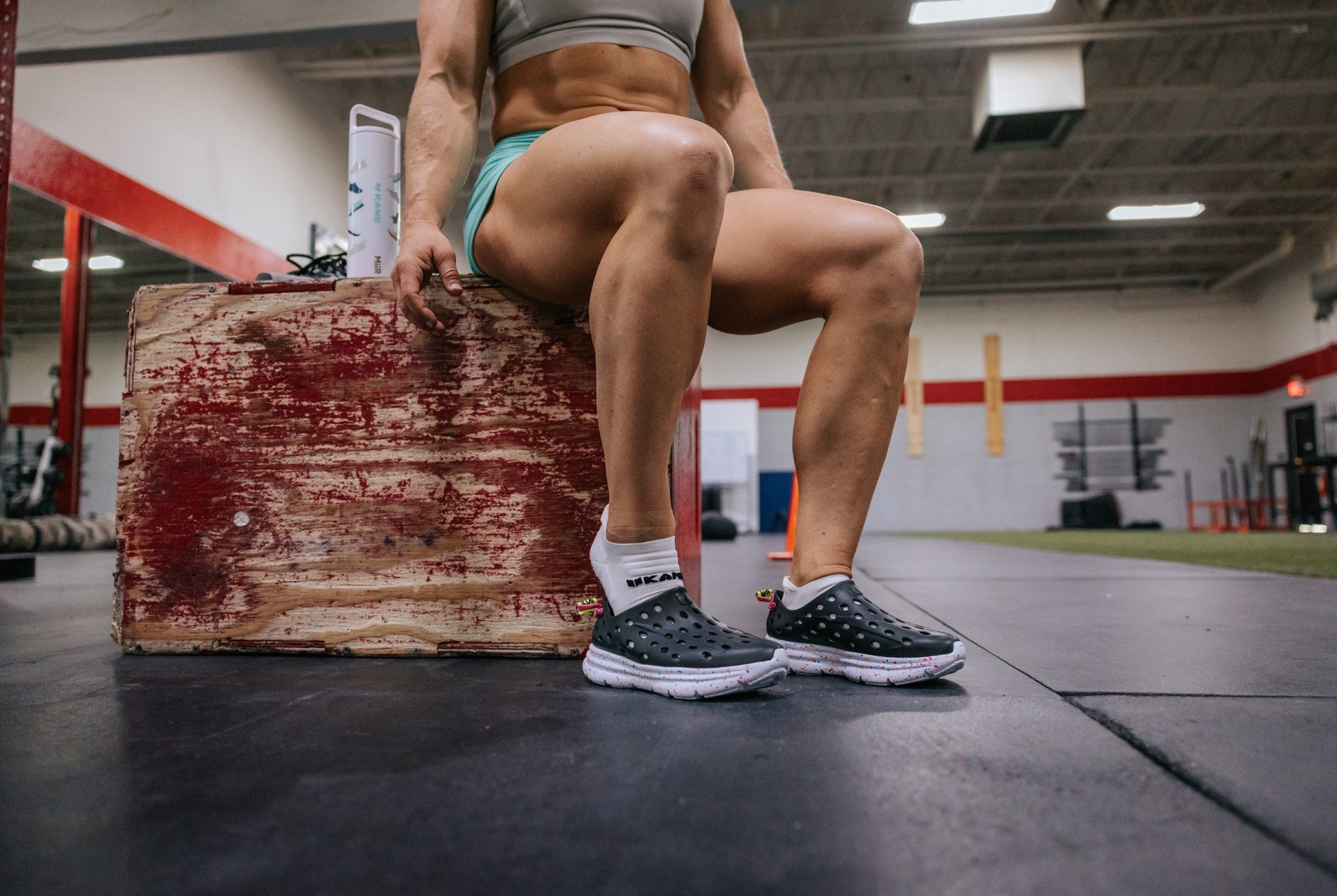 KANE X KARI PEARCE
Love Yourself, Love Your Body!!
There have been points in my life when I haven't loved myself and wished I could change how I looked and who I was. I was very self critical and it often came from caring too much about what others thought of me. One experience that has left its mark on me was from a gymnastics coach when I was a teenager. After returning from a birthday trip to Florida, he asked me if I ate cake to celebrate. I simply replied no, but I had a Friendly's Ice Cream Sundae. His response… "I can tell". This left a deep wound and....added to my worries of how others saw me, making it harder for me to love myself completely. 
There are so many of us that have moments like these, maybe about our looks, how smart we are, how athletic we are, how much money we make, etc. We shouldn't let others or society tell us how we should live. Instead, focus on what truly makes you happy and healthy. This is why I put the saying "Love Your Body, Love Yourself". 
 Take two minutes and list everything amazing about yourself and hold onto that! Be who you want to be and love yourself for it. 
 The Kane x Kari Pearce collaboration is very meaningful to me because when people look at this shoe right before they put it on, they will see "Love Your Body, Love Yourself". That is part of why you are putting on the shoe. Either you are going for a walk or hike, getting ready to workout, or just finished a workout or maybe you just want to show your feet some love. 
You are caring for your body which is one of the best forms of self love there is! Also the KP on the back is there to remind you that you aren't alone and I'm cheering you on each step the entire way!
So everytime you put the shoe on, I want you to smile because you are special and you should thoroughly love yourself, because there is only one of you!